In the year 2017, I travelled out of my country for the first time. I was like a small cotton ball released from its pod—happy and content. I felt like a blessed creature.
Among many things, one particular event is like a Google doc attachment—you keep downloading it forever. Some attachments, you see, are so unique that they loop around you like candy floss.
So, it is an encounter with a man who I never met before. A mutual friend introduced us over Facebook when the University of Chichester invited me on a poetry fellowship for three months.
I won't call it a blind encounter. We did interact before my arrival in Scotland. In fact, I was so stupid that I asked him the distance between Edinburgh and Scotland.
He did answer me when he came to receive me at Edinburgh airport.  He said that the distance between Edinburgh and Scotland is the distance between Hyderabad (since I lived there) and India.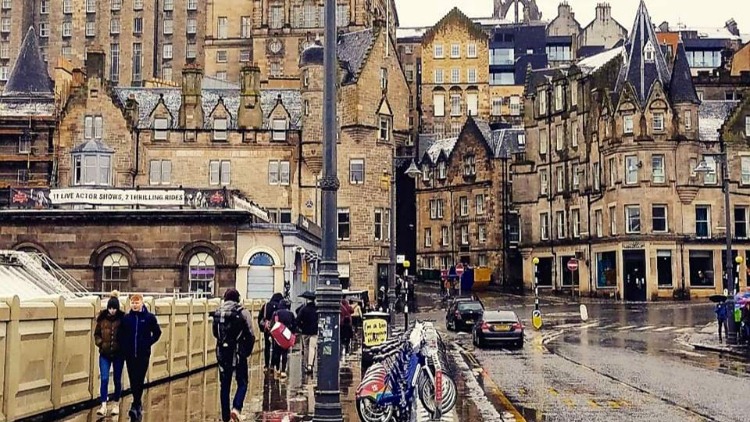 The day was cold at -2, but the warmth with which he received me made all the difference. On his face, there was so much joy that I felt like we were buddies from kindergarten.
As we set out toward his place, it drizzled. You can imagine how vulnerable it gets for a writer to be in the company of a kind stranger that too in a foreign country.
At his place, he showed me the room I could use, gave me food, offered some wine, and increased the room heater so that I didn't fall sick. Later, he helped me roll in some comfortable travel stories.
He even took me around, showed me a few places—his workplace, the big broad roads of Edinburgh, a park, a church, birds, and the view of his quaint little backyard from the kitchen.
According to the plan, I needed his place to keep my baggage for three days that I had planned to be in St. Andrews for the Stanza Poetry Festival. But now it seems I have needed him more than I deserved.
Things were so overwhelming that I forgot to carry my purse when he came to drop me at the bus stand for St. Andrews. Without a word, he gave me 100 pounds.
All the way to St. Andrews, I thought about this man and how he comforted me the previous night allowing me to lie down by his side when I cried like a child for missing my mother.
This story is not about my extended stay in St. Andrews and thereof to Tayport, which too have been fantastic. This story is about warmth, restraint, and the comfort of being in our bodies without the idea of trespassing privacy. We were adults, you guess it?
Men, in my experience before that, have been jerks. Until then, I didn't meet a human so close to being a perfect gentleman. Of course, as I said earlier, there was a lot of vulnerability, but I was comfortably numb.
When I left for England, I did miss him sorely and wondered about the impact of a stranger's affection. Unfortunately, a few years later, when the man lost his mother, I learned of her as the source for his tremendous empathy.